NEXT MEMBERSHIP MEETING
Saturday, October 20, 2018
9:30 A.M.
Tracy Gee Community Center
3599 Westcenter Drive
AAUW Fellowship Leads to
NASA and Johnson Space Center
Zadia Fernandez joined AAUW as a collegiate member in 2015. As a graduate student at the University of Houston's Cullen College of Engineering, she received an AAUW Selected Professions Fellowship for 2016-2017. After receiving her master's degree in Industrial Engineering, Zadia joined the NASA program at Johnson Space Center. She is a thermal engineer working on passive thermal control systems and thermal protection systems on projects ranging from a lunar lander design to thermal analysis for the Orion heatshield.
In her free time, she likes to participate in STEM/NASA outreach events specifically those focused on reaching girls and underserved youth.
Carolyn Stoffel, Program Vice President

I'd like to thank the Classic Gourmet Group for providing the refreshments for the September 18 meeting. They were yummy!
The Evening Contemporary Literature Group will be hosting the Pot Luck at the October 20 meeting.
Carolyn Morris, Hospitality Chair
---
HARVEST MOON BALL
OCTOBER 27, 2018
Fall is here and that means it is time for the
Best Ball that you do NOT attend!!!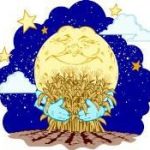 Each year the HARVEST MOON BALL is held to solicit your support in harvesting funds for the advancement of equity for women and girls – through advocacy, education, and research. These AAUW goals and accomplishments are made possible by supporting our local BAKER-TELFER SCHOLARSHIP FUND or one of the various AAUW FUNDS. The attached invitation (see page 8) provides details on each fund. Just write a check to the scholarship fund or one of the AAUW funds and drop it in the mail.
adress: Nancy Ennis, 1122 Ben Hur Drive, Houston, TX 77055,
or bring it to the October branch meeting.
Nancy Ennis and Georgia Kimmel, AAUW Funds Vice-Presidents
---
Member News Notification

Please notify Suzanne Dalati, Corresponding Secretary, at sdalati@att.net, about any member news that is important to share with the membership and has been authorized to share by the member involved.
---
To insure that you do not miss any communications from the Branch, please send updates or corrections to your contact information to Margaret Carlson at AAUW.Margaret.Carlson@gmail.com.