ATTENTION NEW MEMBERS
Your help is needed for AAUW's Expanding Your Horizons (EYH) event on Saturday, February 24, 2018. EYH is the signature program for our West Harris County Branch and involves a day of presentations to middle school girls interested in pursuing a career in the Science, Technology, Engineering or Mathematics (STEM) fields. Please consider volunteering as a classroom facilitator where you would be involved in assisting the presenter in such matters as helping them stay on schedule, distributing and retrieving evaluation forms, room arrangements, etc. It is easy work and the fun part is that you get to hear the presentations and witness the interaction between the presenters and the students. Your involvement makes for an interesting and fulfilling day. There will be training for newcomers on Friday, January 26, at 4:00 p.m. To sign up, please contact Jane Wood at jane.wood9@icloud.com or call 832.767.4146.
Sheila Jaynes, Membership Chair
It is with sadness that we learned of the Sept. 30 death of Anne Bogan, charter member of AAUW West Harris County Branch.  Ann was an active member of our branch for more than 35 years and was very well known by many AAUW friends.   Her memorial service will be held at Spring Branch Presbyterian Church, 1215 Campbell Road, 11 AM on November 11 with a reception following.
---
The information below is important for all NEW West Harris County Branch members.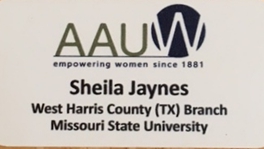 If you are an existing member and still need to order, please follow the instructions below. We're hearing more reports everyday about how nice it is to have portable name tags to wear to all the AAUW functions.
Go To – AAUW.source4.com
Select – Wear AAUW (the first item) Ordering your name tag is easy and wearing it helps us get to know you.
Select – Photo of the Name Tag
Select – Pin or Magnet – ($8.00 for pin closing and $10.00 for magnetic closing)
Select – Quantity
Select – "Customize" and fill in the information requested (name, university, and name of branch) Refer to example above
Make sure the information for the name badge is correct and proceed to checkout
I will be glad to assist persons who have trouble ordering their name tags online.
Sheila Jaynes, Membership VP
---
New Members – How to Join
Joining AAUW is easy, and where you take that membership is up to you. You can engage in your community branch on the front lines or you can join a virtual AAUW community online; whatever your level of involvement, your membership supports and furthers AAUW's mission to advance equity for women and girls.  Contact Sheila Jaynes – sjaynes50@yahoo.com for information on how to become a member of the West Harris County Branch of AAUW.
Just the facts
Who can join?
Membership is open to anyone holding an associate's (or equivalent, e.g. RN), bachelor's, or higher degree from a regionally accredited college or university.
What type of membership is available?
National membership: Become a national member and connect through our website, plus enjoy special members-only online publications.
Branch members: Do you want to make a direct impact in your community? Consider joining a local or virtual branch of AAUW, or start one in your area.  Includes national membership.
Younger Women's Task Force (YWTF): Designed by and for women in their 20s and 30s, YWTF offers young women an opportunity to take action on issues that matter most to them.
Student affiliation: If your college is already a partner member, you can be a student affiliate for free! If not, bring AAUW to your campus by starting an AAUW student organization!
How much are dues?
AAUW National membership annual dues are $49 (promotional and other rates may vary).
If you choose to join an AAUW affiliate, additional dues may apply.
Tax Deductibility: Because AAUW is a 501(c)(3) charitable membership organization, most of your national dues are tax deductible on your personal federal income tax return