Although National AAUW is not allowing group gatherings, West Harris County Branch is preparing for our first opportunity!  We are getting ready for the annual Branch Recognition Luncheon on Saturday, June 12, 2021 at Maggiano's Italian Restaurant.  The Baker-Telfer Scholarship presentation and a program by Poppy Northcutt will be on the agenda.  Additionally, we are preparing for the Branch Membership Coffee at Memorial Drive United Methodist Church on August 28th.  New and returning members will receive an invitation as time grows near and restrictions are removed.
It is important to renew your dues so you can participate in AAUW-WHC.  Please help our branch by renewing your membership online.  You received a renewal form unique to you on March 29, 2021, from Memberinfo@aauw.org.  By renewing online with a credit card, you save the cost to national of paying someone to enter the information manually.  If you prefer, you can send a check to Diane Roberts (5607 St. Paul St., Bellaire, TX 77401).  This year dues are $86.00.
Please also remember not all members are able to attend ZOOM meetings, but a card or a phone call is important to their feeling connected with WHC members.
Always important these days is staying safe.  If anyone needs a ride for COVID vaccine, please give me a call.  Thank you to all of you that continue make West Harris County Branch a vibrant organization.
Stay safe,
Carolyn Stoffel
Time to Think About Dues Again!
This has been a rough year for our branch and I for one am looking forward to resuming
normal activities, with real people. We have zoomed and laughed together for a long time, and soon we may be meeting in person again.  It is going to be wonderful to build our relationships back up with all the activities in West Harris County groups.
Our yearly dues are due, and payments made after March 15 will count for the coming fiscal year, July 2021-June 2022.
You can send a check to me, Diane Roberts, if you wish, and I will take care of the renewal. You should have received a personalized email from AAUW national, and you can pay with a credit or debit card, with the link in that email, or mail it to me directly. The national portion of the dues is $62, state dues are $13, and West Harris County dues are $11, for a total of $86. If a person already a member of another branch wants to join with us, dual memberships are $11.
Send checks to Diane Roberts, 5607 Saint Paul St., Bellaire, Tx 77401, or look for the dues renewal email that will be coming from the AAUW national office.
Diane Roberts
Finance Officer
---
Just the facts
Who can join?
Membership is open to anyone holding an associate's (or equivalent, e.g. RN), bachelor's, or higher degree from a regionally accredited college or university.
What type of membership is available?
National membership: Become a national member and connect through our website, plus enjoy special members-only online publications.
Branch members: Do you want to make a direct impact in your community? Consider joining a local or virtual branch of AAUW, or start one in your area.  Includes national membership.
Younger Women's Task Force (YWTF): Designed by and for women in their 20s and 30s, YWTF offers young women an opportunity to take action on issues that matter most to them.
Student affiliation: If your college is already a partner member, you can be a student affiliate for free! If not, bring AAUW to your campus by starting an AAUW student organization!
How much are dues?
AAUW National membership annual dues are $49 (promotional and other rates may vary).
If you choose to join an AAUW affiliate, additional dues may apply.
Tax Deductibility: Because AAUW is a 501(c)(3) charitable membership organization, most of your national dues are tax deductible on your personal federal income tax return.
---
The information below is important for all NEW West Harris County Branch members.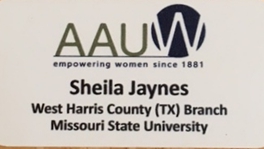 If you are an existing member and still need to order, please follow the instructions below. We're hearing more reports everyday about how nice it is to have portable name tags to wear to all the AAUW functions.
Go To – AAUW.source4.com
Select – Wear AAUW (the first item) Ordering your name tag is easy and wearing it helps us get to know you.
Select – Photo of the Name Tag
Select – Pin or Magnet – ($8.00 for pin closing and $10.00 for magnetic closing)
Select – Quantity
Select – "Customize" and fill in the information requested (name, university, and name of branch) Refer to example above
Make sure the information for the name badge is correct and proceed to checkout