"COVID-19 and the Labor Economy: What's Next?"
This is an excellent webinar.  Economist, Diane Lim is in conversation with our AAUW President, Kimberley Churches.  Dr. Lim provides helpful insight to how millions of workers, especially women, have been impacted by the ongoing pandemic and economic downturn. Women had become 50.4% of the work force prior to COVID-19.  Due to the economic downturn women, people of color and low-wage workers are most impacted. The effects, especially on women, will be long lasting on careers and earnings.  Dr. Lim suggests public policy initiatives by private industry and government that are needed in the future that can help support women in the workforce.  The webinar recording is available under AAUW's 2020 Convening Series. I recommend that all WHC members watch.  https://www.aauw.org/resources/member/initiatives/2020-convening/
When women get equal pay — and equal opportunity — they, their families and all of society will thrive. To get there, we need to embrace diversity, equity and inclusion.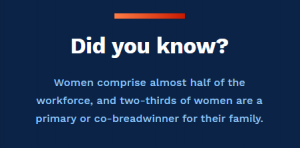 We've led the fight for fair pay and economic opportunity for women — and the battle continues: Women still get just 82 cents for every dollar paid to a man, and men continue to dominate the top roles and highest-paying professions.
The median salary for women is just 82% of the median salary for men—a figure that has barely budged over the past generation. Median earnings for American women working full time are $45,097, while men are paid $55,291. Yet women make up close to 47% of the workforce, and as many as two-thirds are primary or co-breadwinners of their families.