Collection of documents
The end of the AAUW fiscal year is fast approaching, and it will be time to assemble the WHC Branch records/documents of our activities for the past year.  Below are the guidelines for collecting them.  Martha Ewell, Historian, is responsible for gathering these records for transfer to the U of H Library Carey Shuart Women's Research Collection.  The fiscal year is always July 1 to June 30.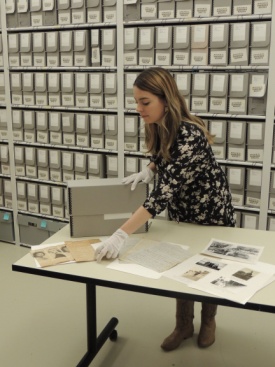 The U of H Library Archivist encourages us to collect as many digital, paper, and loose materials as possible.  There is ample archival storage space to accommodate all materials that we collect that will contribute to our history and activities throughout the year.
Please send all documents to Martha Ewell, email: marthaewell@att.net
Documents to collect and person responsible:
Items such as pictures, old WHC video tapes and ephemera that individual members would like to submit to the archives.
AAUW special interest groups (contents of emails or other publications when appropriate, photos, etc.)—the Leaders of each special interest/activity group
Obituaries of AAUW WHC Branch members—the Corresponding Secretary
Records still held in the personal collections of past leaders and members
Records of Student Affiliate's activities
Timeline:
Data collection takes place on an annual basis at the end of the calendar year on June 30.
All documents collected are submitted to the U of H Library Special Collections by the following August or September.
The Branch Historian is responsible for collecting all documents both digital and paper.
Types of Documents:
Digital documents—including primary digital documents. May be submitted on a zip/thumb drive or by email if appropriate.
Paper documents—handouts, brochures, folders, any kind of paper document that supports the activity, etc. Paper documents are significant source of research material.  Researchers like to "feel" the material and to view it in its original format.  and find that these documents add to their understanding and appreciation of the materials by bringing it alive.  Please make sure the documents are identified and dated.
Memorabilia—any special items/artifacts that are pertinent to our activities but do not fall into the category of paper or digital documents.
Audio-visual materials–Photos of meetings, events, special interest group activities—documented with date, activity, and the names of AAUW participants featured in the photo, power point presentations, videos. These may also be included in newsletters.
Photos—it is essential to identify the members in the photos, the activity, the group, the date of activity and anything else which pertains to the photo. Without clear identification the photos have no meaning to the audience at large.
Martha Ewell, Historian