**AAUW 2018 ART CONTEST**
The annual art contest is under way and it features two entries by WHC's own Cindy Hickok. Her works are entitled: "Container Gardeners" and "Americans at the Café de Musee".
Voting is from Feb 6  – Mar 4. The winners will be announced in late March. You can visit the 2018 gallery at www.aauw.org/contests/ and vote for 10 entries. You will need your member ID number and password  to access the gallery. The top 6 winners will have their art featured in a collection of note cards mailed to AAUW members in the spring.
Let's support Cindy by visiting the gallery and voting for her!
---
WHC BRANCH RECOGNITION
On December 8, 2014, Schlumberger, in concert with Computer Science Education Week (December 8-14), hosted a celebratory event during which AAUW-WHC received a proclamation from Annise Parker, mayor of Houston. The proclamation acknowledges and commends the branch for its leadership in improving and strengthening computer science education. The branch has a multi-faceted approach through EYH and activities fostered by the WISE and Volunteer groups. Pictured below are some WHC members who attended the Schlumberger event.
AAUW Texas Outstanding New Member Award -Betty McCutchan – 2012
AAUW TEXAS PEARL AWARD 2009 – 2010
AAUW Texas R.E.A.P. Recognition 2010-2012
2008 Mayor's Volunteer Houston Award
Excellence in Communications 2004 Award for Websites
Parade/NFL Community Quarterback Award, 12/10/03
Excellence in Education, 12/01/03-Engineering, Science and Technology Council of Houston
Twenty First Century Awards – 2002 – 2008
Remi Willoughby, 2002-2004 Eleanor Roosevelt Fellow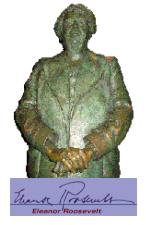 Remi began her formal career as an educator in 1978 teaching French to middle and high school students in Nigeria. In 1988 her family moved to the United States, and she graduated with M.Ed. (Elementary) in 1991 from Texas A&M, Commerce. She has since focused on elementary education. Since moving to Houston, she has taught in multiage classrooms for over seven years, then she began teaching technology. She used technology during those years as a classroom teacher, and she was constantly searching for better ways to integrate technology into her curriculum. As the computer technology teacher for K-5 at my school Remi is responsible for teaching over six hundred children how to effectively maximize their time on the computer.PowerPoint Presentation: GTECH: Girls' Technology Club .She is currently working on her second Eleanor Roosevelt Fellowship and has used the funding to develop a Girl's Technology Club at the The Rice School/La Escuela Rice (TRS/LER) Houston Independent School District, Houston Texas.
Susan Boone, 1990-1991 Eleanor Roosevelt Fellow
Susan Boone is a high-school teacher at Westside High School in the Houston Independent School District. She is a native-born Texan and has lived in Houston for the last 25 years. Susan grew up in Temple, Texas, graduated from Temple High School and has a B.S. in Secondary Education from the University of Texas at Austin. She is particularly interested in sharing teaching ideas in Algebra and Integrated Technolgy. Susan developed an 'almost' all girls' math elective designed to improve standardized test scores using manipulatives and a lab environment. Since her fellowship she has presented at many local, state and national conferences.
About the Eleanor Roosevelt Fellowship
The Eleanor Roosevelt Fellowship is given by the American Association of University Women (AAUW). Eleanor Roosevelt Teacher Fellowships are designed to provide professional development opportunities for women public school teachers; improve girls' learning opportunities, especially in math, science, and technology; and promote equity and long-term change in classrooms, schools, and school systems. A range of program options allows flexible funding opportunities. This award is presented to teachers to develop programs specifically focused on gender equity in the classroom. Write to AAUW Educational Foundation, 111 16th Street, N.W., Washington, DC 20037 or phone (202) 728-7618.
Additional Awards
AAUW Five Star Branch Award – 1993 – 2000
AAUW Educational Grant – 1995