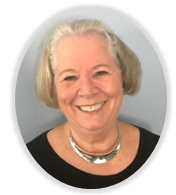 Dear West Harris County Members,
President's Message
Dear West Harris County Members,
What a Week!  I hope are all safe and recovering from the Deep Freeze of 2021.  Please reach out if there is any way AAUW-WHC branch can be of assistance.
March is an important month. Please mark your calendars for the following events.
By March 3 vote for Cindy Hickok in the AAUW Art Contest.
March 19: Member nominations "from the floor" due to Carolyn Morris
(morriscs@aol.com or 713-560-1889)
March 20: Program: Premier High School at Gallery Furniture, Jill Wright, Principal
March 27 at 10AM: AAUW-WHC Discussion of National By-laws change
Below this message, you will find the proposed by-laws changes.
It is great to hear that so many of our members have received COVID injections!
Sincerely,
Carolyn Morris
Branch President
---
ARTICLE IV. MEMBERSHIP AND DUES
Section 1. Composition. The members ("Members") of AAUW shall consist of individual members ("Individual Members") and college/university members ("College/University Members").
Section 2. Basis of Membership.
    Individual Members.
    Eligibility. An individual holding an associate (or equivalent, e.g., RN), bachelor's, or higher degree from a higher education institution accredited by a regional accrediting agency recognized by the U.S. Department of Education (an "Accredited Higher Education Institution") or other qualified educational institution located outside of the United States, as determined by the Board of Directors, shall be eligible to receive admission to AAUW membership; such membership shall be granted upon payment of AAUW dues. The provisions set forth in this section are the sole requirement for eligibility and admissibility to AAUW membership except that the Board of Directors may establish a process to assess credentials that are submitted based on degree equivalence. An individual who supports the AAUW mission and pays annual AAUW dues shall be eligible to be an individual member with all rights and responsibilities of AAUW membership.
Saving Clause. No Individual Member shall lose membership due to any change in the status of the higher education institution upon which original qualification for membership was based.
    (C.) Life Membership.
    Paid. An Individual Member may become a life member (a "Life Member") upon a one-time payment of twenty years' annual AAUW national dues, based on the amount of annual AAUW dues the year the Member elects to become a Life Member but without credit for AAUW dues paid in prior years. Thereafter, the Life Member shall be exempt from the payment of AAUW national dues.
    Fifty-Year Honorary. An Individual Member who has paid AAUW dues for 50 years shall become a Life Member and shall thereafter be exempt from the payment of AAUW national dues.
    College/University Members. Any Accredited Higher Education Institution or other qualified higher educational institutions located outside the United States, as determined by the Board of Directors, that pays annual dues to AAUW shall be eligible to be a College/University Member. Each College/University Member shall appoint one or two representatives who are eligible to be Individual Members and who shall each have the membership

benefits

rights and responsibilities of an Individual Member and any other benefits that accrue to representatives of College/University Members, as determined by the Board of Directors.
    Other Organizational Members. The Board of Directors may set forth criteria for other organizations ("Organizational Members") to join AAUW.
    Appeals of Refusals of Admission to Membership. Any potential Individual Member or College/University Member that has been refused admission to membership may appeal to the Board of Directors for review. The decision of the Board of Directors shall be final.
Section 3. Student Associates. The Board of Directors may permit undergraduate students enrolled in Accredited Higher Education Institutions or in other qualified educational institutions located outside of the United States, as determined by the Board of Directors, to associate with AAUW, with fees (if any) and benefits as determined by the Board of Directors.
Section 4. Section 3. Dues.
    Amount. The annual dues and member benefits for any category of member shall be established by a two-thirds vote of the AAUW Board of Directors. Annual dues may be set at lower amounts, or may be waived entirely, for certain Individual Members based on objective criteria including but not limited to the Individual Member's status as a student and the Individual Member's current enrollment at an institution that is a College/University Member. Members shall be notified of the intent to consider a change in the dues, the proposed amount, and the rationale for the change at least 60 days prior to the vote.
    Payment. Member dues shall be payable in accordance with procedures established by the Board of Directors.
Section 5. Section 4. Severance of Membership. Any Member may be suspended or removed from membership for any conduct that tends to injure AAUW or to adversely affect its reputation or that is contrary to or destructive of its mission according to these Bylaws, with action taken following policies and procedures adopted by the Board of Directors. In addition, a College/University Member that is no longer eligible for membership shall be removed from members.