Healthcare Access
The American Association of University Women believes that everyone is entitled to high-quality, affordable, and accessible health care.
We are familiar with the threat of losing coverage under the ACA for pre-existing conditions and for adult children over the age of 26.  However, there is a less known risk.
The Affordable Care Act has made a significant impact on women's health.
Fewer women of reproductive age are uninsured. The number of uninsured women ages 15–44 has dropped by 36 percent under the first two full years of ACA implementation.
The practice of "gender rating" ended. Now banned by the ACA, gender rating is the process by which insurance companies charge men and women different premiums for individually purchased health care plans.
Coverage of women's reproductive health services is required. Under the ACA's coverage of contraception, 67 percent more women have been able to access birth control without a co-pay, which has led to a decline in unplanned pregnancies.
The ACA ensured access to and coverage of preventive services and care. The ACA has secured preventive services to women including contraception, breastfeeding support, and sexually transmitted infection and HIV screenings.
Health care security is intrinsically tied to economic security, and this relationship is particularly true for women who earn less than men on average and less able to afford insurance or care. Despite massive spending, health care outcomes in the United States continue to lag behind many other Western nations.
The ACA is making progress in reducing ethnic disparities in health care access, with 5.2 percent more young women, 5.1 percent more black women, and 6.5 percent more Hispanic women gaining access to a regular source of care.  According to the Department of Labor, women make approximately 80 percent of all family health care decisions, and about 60 percent of women report that they assume primary responsibility for decisions regarding family health insurance plans.
When it comes to their own health care, women face unique challenges. Women earn around 80 cents for every dollar men earn, but also utilize more health care services than men. As a result, women face a high level of health care insecurity. Too many women and their families are left with unpaid medical bills and long-lasting debt problems.
Two major challenges to ACA are important to note:   The Supreme Court ruled that the federal government cannot make states' current Medicaid funds contingent on participating in Medicaid expansion.  The 2019 edition of a report on health care by The Commonwealth Fund, a private foundation focused on promoting high-performing health care systems, ranks Texas last in access and affordability. One of the authors of the report told Houston Matters that Texas' failure to expand Medicaid eligibility is a crucial factor to explain the poor ranking.
Congressional Republicans would like to change the structure of Medicaid by converting it into a block grant, providing a set dollar amount for each state. By changing how Medicaid works, states would gain the ability to restrict eligibility, cut benefits, and increase barriers to enrollment.  As healthcare coverage changes and new legislation is introduced, we must continue to let our legislators know that we support quality, affordable, and accessible health care for all.
Diane Statham
Public Policy
---
Thinking of Your Good Health:  Get Out to Enjoy the Weather!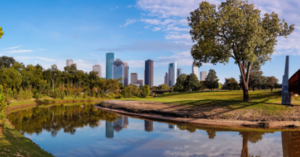 Are you ready to get out, but do not feel comfortable with what or who you might encounter?  Taking a walk in this now cooler, fall weather, is more and more of an option for you to consider.  It will do wonders for your heart and your mind.   Masks are not required if you are outdoors and using social distancing.   Many people you encounter in the parks are wearing masks.  I keep mine handy when I go out, especially if I stop and ask questions or talk.
The first is Buffalo Bayou Park just west of downtown Houston.   Celebrating its 5-year anniversary with a new art installation, the park has proven to be resilient during our storms.  Especially during the weekday, you will not find this park crowded.  This special space has lovely art, over 4 miles of walking trails, all within eyesight of the bayou.  The trees, flowers, insects, reptiles, and animals are natives.   You might even see some canoers or kayakers.  Parking is available at the Dunlavy on Allen Parkway (closed but the parking lot is available), and at the cistern on Sabine Street (take the tour, check out the visitor center, and bathrooms) or along Allen Parkway using Park Houston meters.
My second suggestion is the newly designed Arboretum on Memorial Drive.  Thursdays feature free parking.   The flora and fauna are teeming in this rejuvenated park full of trails, signage, and a nature center.   It is a good place to wander.  You will not have to walk far before you spot something moving in a pond, in a tree, or beside the trail. (goats will be hanging out there until week after Thanksgiving)
Lastly, Edith Moore Bird Sanctuary is located on Memorial Drive on the west side and serves as the headquarters of Houston Audubon Society.   This park has a lovely array of paths through the woods.  Catch the large assortment of birds that make this nature preserve their home.  There is ample parking in the front and back of this park at no charge.
 For more help with these ideas, you can contact Jane Wood at 832-767-4146.