VOTE!
Election Day is Tuesday, November 7Early Voting runs until November 3Sites in Harris County are open from 7 a.m. to 7 p.m. daily, except October 29, noon to 7 p.m.

There is a lot on the ballot. An excellent resource of information is the League of Women Voters' Guide online at https://www.houstonvotersguide.org/

Sample ballots are posted and available at https://www.harrisvotes.com/Voter/What's-on-my-Ballot You can print your sample ballot, make your choices at home and bring the sample ballot into the voting booth with you.

There are 14 Texas Constitutional Amendment Propositions on the ballot.
You will be voting for candidates for a variety of county and city offices.
There are also Harris County and City of Houston propositions. These propositions may affect how your local government can respond to immediate community needs and issues that affect you day to day.

For example: Harris County Proposition A seeks voter approval of a $2.5 billion bond authorization to finance the rebuilding and upgrading of the Harris County Hospital District's facilities.

You are urged to consider a "Yes" vote on Harris County Proposition A. Harris County Proposition A will finance the replacement of the LBJ hospital, the creation of a third Level I Trauma center, add capacity at the existing Level I Trauma Center, and invest in clinics and health services across the County. The hospital district serves nearly five million residents of Harris County and often many of the residents in the surrounding areas. The LBJ hospital is frequently over capacity and often has major repair issues that decrease the number of patients it can admit. While none of us expects to seek care at a Trauma Center, you may need care at one should you be severely injured in an accident.

Your vote matters.

Be prepared to vote again soon: It is possible that the mayor's race and some of the council races could require a second election if no candidate receives a majority of the vote. If so, the top two candidates would face off in a runoff election on December 9.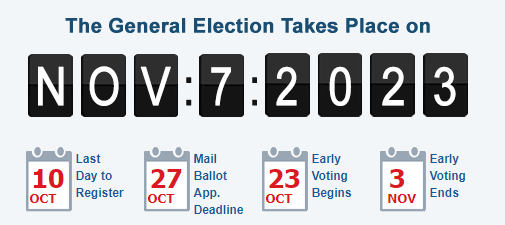 To prepare to vote, the following suggestions are recommended by the League of Women Voters and Harris County:
Check your registration status at https://www.vote411.org
To vote by mail you must apply each year for an annual mail ballot application, harrisvotes.com/voter/vote-by-mail. While you can submit this annual application anytime during the calendar year, it must be received at least 11 days before the first election in which you seek to request a ballot by mail.
There will be 14 Constitutional Amendment Propositions on the ballot. The Constitutional Amendment Propositions are bills passed during the recent Texas legislative session. They may not be easily understood.  You can read the explanations of the propositions at https://www.sos.Texas.gov/elections/forms/2023-explanatory-statement-14-final.pdf.  Another excellent resource is the League of Women Voters' Guide, which will be available the first week in October online at https://lwvhouston.org/.  Print versions will be available at local libraries well before early voting begins on October 23.  The guide is nonpartisan and offers pros and cons of each amendment proposition in plain language.  Candidate information, which is obtained from each person running for office, is also provided.  Some candidates decline to participate in the League's guide by not submitting information.
Sample ballots are posted and available approximately 45 days before November 7 at https://www.harrisvotes.com/Voter/What's-on-my -Ballot. If you live in another county, check with your county election office.
Dorothy Lauterbach