Planting the 'Rosie the Riveter' Rose Garden – Garden Divas 2019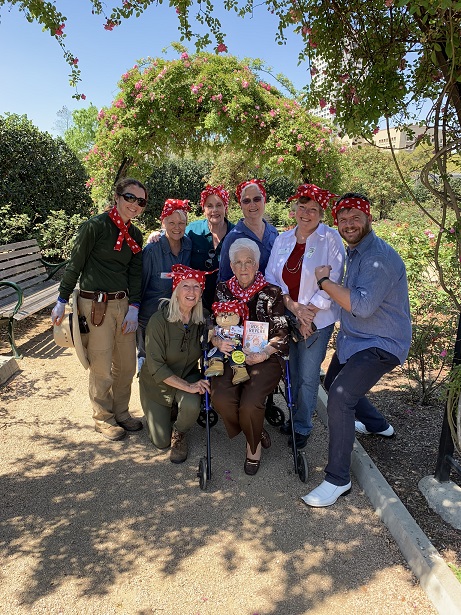 Study Break With the Rice Student AAUW Affiliate
On Monday afternoon, April 22, Sharon Jorgeson, Georgia Kimmel, Margaret Carlson, and Anne Amador provided a study break for the Rice AAUW students as they began their final exams. These delightful young women (and one hungry and supportive boyfriend) enjoyed sharing their stories and summer plans with AAUW West Harris County members. The comfort food was much appreciated by the students, who were also provided goody bags and snacks to take with them for fueling their late-night review sessions that week. In turn, our WHC members were truly inspired by these young women's enthusiasm and energy.  We look forward to continuing this wonderful relationship between our groups in the fall semester.
---
Out from under the Bed and into the Archives of the University of Houston Library, an Update:
A year ago in late August, Nancy Guilloud and I transferred the entire physical and digital collection of AAUW-WHC Branch since our inception in 1976 to Vince Lee, Archivist of the
Carey Shuart Women's Research Collection at the University of Houston Library. The intent of this project is to provide online access to WHC records to all members of our branch and to the public at large. This special collection represents individual women and women's groups who have contributed significant leadership in the Houston community.
Each year in late summer at the end of our branch's calendar year, the historian will collect and transfer all physical and digital records that have accumulated during the previous year in order to keep the special collection updated. To that end, Nancy and I recently delivered our records for the 2017-18 year. Mr. Lee indicated that we are next in line to have our entire collection digitized this year thanks to their expanding staff and range of equipment. More than likely a graduate student working in the field of women's studies will process these materials. If all goes well, our records should be online by the end of this coming spring. Until then, the Special Collections Reading Room is open to the public so you may view the original documents.
Listed below are the documents that we will assemble next summer:
AAUW Board meeting minutes
AAUW Newsletters
AAUW annual meeting—program for luncheon
AAUW directory
AAUW treasurer's reports
EYH brochure
EYH steering committee minutes
EYH list of presenters and categories
Photos of meetings, events, special interest group activities—documented with date, activity, names of AAUW participants featured in the photo. These may be included in newsletters.
Any relevant paper documents associated with AAUW business or activities during the year.
Martha Ewell – Historian
---
Ongoing Activities and Interest Groups
Please note that some facts/dates/etc. shown in the recently distributed directory may have been changed due to Harvey – be sure to check the newsletter to ensure you have the right date, place, and time for an anticipated event.
Branch Meetings – Unless otherwise noted, all meeting will be held at the Harris County Tracy Gee Community Center, 3599 Westcenter Drive, Houston, TX  77042 (713.266.9193). The center is located one block east of the West Sam Houston Tollway and one block south of Richmond Avenue. Guests are welcome.
Programs for 2018-2019  are located in your directory
Leaders for all the groups are listed in the Directory, but if you have questions and/or would like help to make a connection, please contact Activities Coordinator, Jan Groves, 281-497-2295 or jamgroves@aol.com.
Book Clubs – Six book clubs read and discuss great or contemporary literature, mysteries, and history.  Check the link for more information.
Bridge – Call the group coordinator listed below if your are interested in subbing ain a particular group. Call Susan Boone if you wish more information and/or are interested in starting a new group or taking beginner or refresher classes
1st – Thursday (7:00 p.m.), Mary Dodson
3rd –  Thursday (7:00 p.m.), Jo Ann Egeland
3rd –  Monday (10:00 a.m.), Melba Armstrong
3rd –  Monday (7:00 p.m.), Couples, Janet Nemitz
2nd & 4th –  Thursdays (1:00 p.m.), Betty Shropshire
4th –  Wednesday (1:00 p.m.), Elizabeth Barnes
Byway Birders – We enjoy the beauty and fascination of birds in the outdoors through field trips to the greater Houston area. We also take some trips around the state. The group welcomes novice and experienced birders. Spouses and friends are also welcome. The only requirements are binoculars and flexibility. Our schedule may change due to weather and location of best birding. To add your name to the Byway Birders List, contact Pat Dach.
Cultural Activities – Members sponsor day trips, which may include lunch at the participant's expense. Everyone is invited, but reservation are required. Guests will be accepted if space permits. Most trips will be made on county buses. If a bus is used, Precinct 3 rules require that riders must ride the bus both ways. No one-way trips are permitted. Details of trips will be announce din the AAUW-WHC newsletters and emails.
Expanding Your Horizons – Expanding Your Horizons, a day-long conference sponsored by the West Harris County branch of the American Association of University Women, provides career information and role models for middle school girls. Professional women share their enthusiasm, education requirements and remuneration working in scientific, technical and financial careers with more than 400 girls, their parents and teachers.  These creative people don't lecture the kids but involve them in various ways to create hands-on experiences in every one of the workshops.  The message is that there are both personal and monetary rewards for taking math and science in middle and high school. Check link for more information.
---