EXPANDING YOUR HORIZONS 2017-2018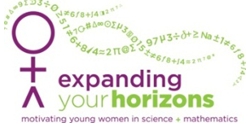 The mission of AAUW is:
"Advancing equity for women and girls through advocacy, education, philanthropy, and research."
The West Harris County Branch has for the last 25 years organized and presented Expanding Your Horizons, a one-day conference for middle school girls to inspire them in the pursuit of a career in the Science, Technology, Engineering or Mathematics (STEM) fields.
EYH has been this branch's primary project in advancing the mission of AAUW.
We are still looking for volunteers for EYH 2018 which will take place on February 24, 2018.
Open positions on the Steering Committee are: Assistant Chair and Presenter Training Dinner Coordinator.
We also need to train the next Registrar, currently being coordinated by Hazel Chahar. This is the job description for the registrar:
Expanding Your Horizons Registrar:
The Registrar works in conjunction with the Treasurer to take the submitted registration forms and enter them into a database where assignments are made for the conference sessions. You will work with both Microsoft Excel and Access to complete the process. Data entry assistance is possible at the front end, with helpers working from their homes on their own computers via the internet. Files are exported to Excel, cleaned and checked and then imported into an Access database, which has been loaded with Speaker names, room assignments and session numbers. Once all registrants are loaded into Access, a program will assign sessions to each adult or student based on their desired sessions – if possible. Some manual review and changes are needed. Once the data appears complete, badges are printed and school packets are compiled, to be distributed at the conference.
Lilian Care, EYH Chair 2017-2018
EYH NEEDS YOUR HELP
Please consider helping with our branch's annual
Expanding Your Horizon event as a FACILITATOR. It is easy and fun. We need you on Saturday, February 24, to assist our presenters in the classrooms. Duties include student and presenter evaluation forms, room arrangements, and keeping to our schedule. To sign up, please contact Jane Wood at jane.wood9@icloud.com or call 832.767.4146. Indicate your interest in working AM, PM, or both. For those new to this role, a training will be held at Spring Forest Middle School on Friday, January 26 at 4pm. Details will be sent to you in a confirmation package. Thank you in advance for your support of our branch's signature event.
Jane Lehman Wood, EYH Facilitators Chair
---
West Harris County Branch AAUW Expanding Your Horizons is now set up as a SmileAmazon charity. With every qualified purchase you make at Smile.Amazon.com, our Expanding Your Horizons will receive .05%. Prime members, no worries, you will continue to have the same benefits. All you need to do is logon to smile.amazon.com and get started. Here is a site that will answer all your questions about the program: http://smile.amazon.com/gp/chpf/about/.
---
Thanks for your support.
See EYH Website for more information…eyhhouston.org
Laura Cahill, 2016 EYH Chair