NOMINEES FOR 2018 ELECTION
The 2018 nominating committee proudly presents the slate of West Harris County AAUW branch officer nominees as presented to the Board of Directors:
President Elect: Mary Peterson
Vice President Membership: Jo Glidewell
Funds Vice President: TBA
Recording Secretary: Sara Dalton
These women are to be commended for their willingness to participate in the governance of our branch.
I want to thank the committee members for their participation: Laura Cahill, Jan Groves, Sheila Jaynes, and Linda Morgan. Election of officers will take place at the March 20 membership meeting.
Melba Armstrong, Nominating Committee Chair
---
UNIVERSITY WOMAN TEXAS
Last month's newsletter included information about AAUW National's magazine OUTLOOK going digital and included the link to access it.
Since then, AAUW State has also gone digital with their quarterly publication UNIVERSITY WOMAN TEXAS. You can begin accessing it online immediately by clicking on Fall 2017 University Woman Texas.
This publication will start having information about the AAUW Texas convention that will be in Houston in April 2018. In fact, the Fall 2017 issue includes the convention logo/theme and the announcement that Lisa Falkenberg, Pulitzer Prize winning columnist for the Houston Chronicle, will be a Keynote Speaker for the convention..
---
AAUW Texas
48th Biennial State Convention
April 20-22, 1018

---
AAUW-WHC BRANCH MEETINGS 2017-2018
There are a couple of errors on dates of branch meetings in the new directory. Please update as noted below.
October 31, 2017       Tuesday          7 p.m.
November 28, 2017    Tuesday          7 p.m.
December 3, 2017      Sunday            Holiday Party
January 27, 2018       Saturday         10 a.m.
February 24, 2018      Saturday         EYH
March 20, 2018          Tuesday          7 p.m.
April 20-22, 2018       State Convention
June 2, 2018               Saturday         11 a.m.
---
2017-2018 DIRECTORY UPDATES
Mary Andersen, Directory Editor
---
Rice University


AAUW Student Chapter
The Rice AAUW students had a busy April!  On April 4th, they participated in the Equal Pay Day Campaign, raising awareness of pay inequality with a table and photo op backdrop in the Rice Memorial Center.  Several Rice AAUW students participated in the Millennial Women's Collegiate Political Leadership Summit held on April 9th, with panels discussing how to network and thrive in the political arena, and featuring guest speaker Annise Parker.  On April 18th the students attended Volunteer Deputy Voter Registrar training, which will officially allow them to register their fellow students to vote in upcoming elections.  The energy of these young women is an inspiration!
---
Greetings to All AAUW West Harris County (TX) Branch Members
The Board has approved the use of permanent name tags to be purchased by the members. Members opting not to purchase name tags will be provided with sticky tags at events.
The instructions below can be used to order your name tag – example shown above.
Go to: AAUW.source4.com
Select: Wear AAUW (the first item)

Select: Photo of the name tag

Select: Pin or magnet – ($8.00 for pin closing and $10.00 for magnetic closing)

Select: Quantity

Select: "Customize" and complete the information requested: 
your name,
"West Harris County (TX) Branch"
and name of your university (optional).
Make sure the information for the name badge is correct and proceed to checkout.
I will be glad to assist anyone who has trouble ordering their name tag online.
Sheila Jaynes, Membership Vice-President
---
NAMED GIFT HONOREES
Every year AAUW West Harris County branch honors members at our June luncheon who have done outstanding work in supporting the programs and goals of our branch. This is a special way of recognizing and paying tribute to members giving extraordinary service. We are asking for nominations from the membership. Please submit your nominations along with your reasons for the nomination to Mary Kain or Hazel Chahar by May 1. Three honorees will be chosen.
Mary Kain & Hazel Chahar, Funds Vice-Presidents
No Longer in Boxes Under the Bed: AAUW WHC History
A positive vote to gift the AAUW West Harris County Branch documents to the M. D. Anderson Library at the University of Houston will have many benefits:
Protecting our records from age-related deterioration such as yellowing paper, fading photos, drying glue and tape
Preventing loss/misplacement of records over time
Becoming part of an important women's archive at a top-notch university library that already houses collections such as the Association for Women in Science, The Houston Heights Women's Club, Houston Area NOW and Other Feminist Activities Collection, River Oaks Business Women's Exchange Club, and many more
In time having access to searchable, digitized documents that make available our history and accomplishments to our members and to the broader public.
The Board recommends that AAUW West Harris County Branch gift the documents created by this branch since its inception in 1976 through 2015 and annually thereafter to the University of Houston M. D. Anderson Library for archiving in the Special Collections Department's Carey Shuart Women's Research Collection.
This proposal, unanimously approved by the Board, will be voted on at the March 21, 2017, meeting.
Martha Ewell, Historian
---
BYLAWS CHANGE ALLOWS FOR ELECTRONIC VOTING
VOTED ON AT JUNE 11 MEETING
The Branch Board is proposing that the West Harris County Branch Bylaws be amended to allow for electronic voting. This change will be in effect beginning  in 2016.
The past and current wording of Article V, Section 3b and Article XIV, Section 4c of our Branch Bylaws is shown below.
Margaret Carlson, Parliamentarian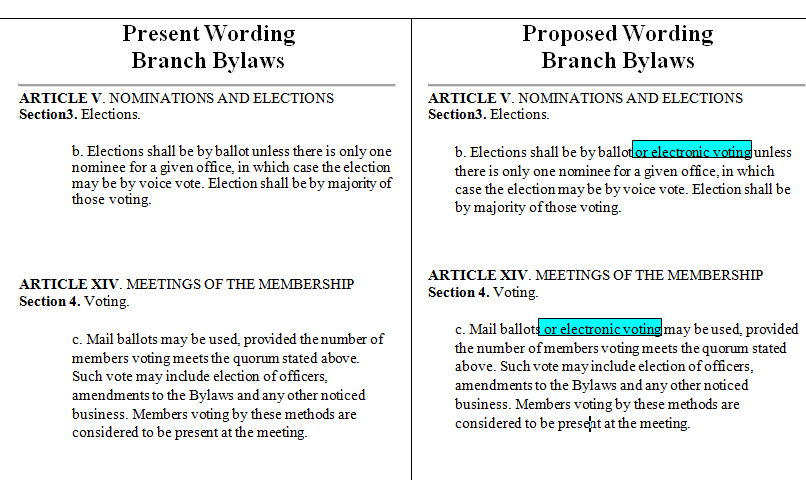 Branch Merger Discussion Discontinued
A discussion of a merger between the West Harris County Branch and the Houston Branch was discussed at the March 22 branch meeting.
A branch merger would dissolve both branches to form a completely new branch. Considering that West Harris County Branch turns 40 years old this year and Houston Branch observes the 80th anniversary of its charter in 2017, a merger with loss of branch history and identity would not be to the liking of either branch. Therefore the suggestion to consider a branch merger will not be pursued further.
Office Depot and Office Max
AAUW has partnered with Office Depot and Office Max to bring you a free national discount program. Members of AAUW can now save up to 80 percent off preferred products, online and in stores! You will also receive free next-day delivery on orders over $50! Print your in-store savings card by accessing the following URL. http://www.officediscounts.org/aauw.html
Free lamination of the card is included if printed online. This is an INCREDIBLE discount for printing. There are other available discounts online as well.