OFFICER ELECTION 2020-2021
Elections for the the branch will be held online this year. Check your email April 1 for the ballot. It will be via Survey Monkey.
PUBLIC POLICY
A new interest group, the Public Policy Group will meet May 14 at 6:30 p.m. at Pat Farnell's home, 12531 Piping Rock Lane. Please bring a snack to share. For more information and to RSVP, please email Pat at farnellpat@gmail.com.
---
10 Steps to Make a Difference with AAUW
This year AAUW is focusing on economic security and pay equity. AAUW is working toward a goal of ensuring livelihood for women by achieving pay equity by the year 2030 through several key objectives:
Champion pay equity federally and in all U.S. states and territories
Lead the nation in providing salary negotiation programs for employees and employers
Train 10 million women in salary negotiations by 2022.
Click here to watch the six minute video on 10 Steps to Make a Difference with AAUW.
Vote in AAUW National Election – 2019
On April 1, AAUW members with an email address received an email from Kim Churches, AAUW, with your Member ID, Voter PIN and a link for voting in the AAUW National Election.  If you no longer have Kim's April 1 email, click on AAUW National Election – VOTE 2019 to vote. Vote:
for members to be elected to the national board of directors. For two of the positions, there is only a single candidate; for the ten AAUW Directors, there are 11 candidates, with profiles and resumes for each to assist in your voting. Note that the single candidate for AAUW Vice Chair is Malinda Gaul, president of AAUW Texas.
on amendments to the Public Policy Priorities.
Voting closes Tuesday, May 14.
---
Greetings to All AAUW West Harris County (TX) Branch Members
The Board has approved the use of permanent name tags to be purchased by the members. Members opting not to purchase name tags will be provided with sticky tags at events.
The instructions below can be used to order your name tag – example shown above.
Go to: AAUW.source4.com
Select: Wear AAUW (the first item)

Select: Photo of the name tag

Select: Pin or magnet – ($8.00 for pin closing and $10.00 for magnetic closing)

Select: Quantity

Select: "Customize" and complete the information requested: 
your name,
"West Harris County (TX) Branch"
and name of your university (optional).
Make sure the information for the name badge is correct and proceed to checkout.
I will be glad to assist anyone who has trouble ordering their name tag online.
Sheila Jaynes, Membership Vice-President
---
No Longer in Boxes Under the Bed: AAUW WHC History
Out From Under the Bed and Into the WHC Branch Archives
Now is the time to assemble all records, including digital, paper, and memorabilia, from our activities this past year. By the end of June, please send these records to Martha Ewell, Historian. Each August, the Historian meets with the archivist at the U of H Library, located on the main campus, to deliver these records for entry into the Carey Shuart Women's Archive & Research Collection which houses all of the WHC Branch past and current history.
If you have any questions, please contact Martha by email m.ewell@sbcglobal.net or phone 713.782.2084.
---
BYLAWS CHANGE ALLOWS FOR ELECTRONIC VOTING
VOTED ON AT JUNE 11 MEETING
The Branch Board is proposing that the West Harris County Branch Bylaws be amended to allow for electronic voting. This change will be in effect beginning  in 2016.
The past and current wording of Article V, Section 3b and Article XIV, Section 4c of our Branch Bylaws is shown below.
Margaret Carlson, Parliamentarian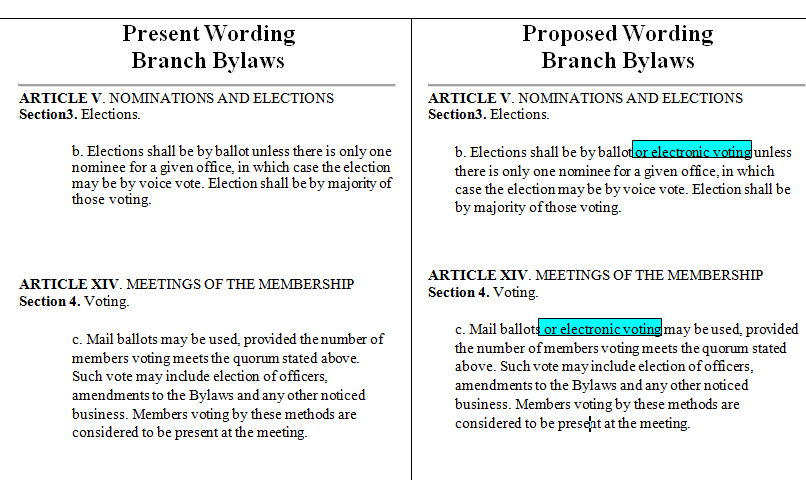 Branch Merger Discussion Discontinued
A discussion of a merger between the West Harris County Branch and the Houston Branch was discussed at the March 22 branch meeting.
A branch merger would dissolve both branches to form a completely new branch. Considering that West Harris County Branch turns 40 years old this year and Houston Branch observes the 80th anniversary of its charter in 2017, a merger with loss of branch history and identity would not be to the liking of either branch. Therefore the suggestion to consider a branch merger will not be pursued further.
Office Depot and Office Max
AAUW has partnered with Office Depot and Office Max to bring you a free national discount program. Members of AAUW can now save up to 80 percent off preferred products, online and in stores! You will also receive free next-day delivery on orders over $50! Print your in-store savings card by accessing the following URL. http://www.officediscounts.org/aauw.html
Free lamination of the card is included if printed online. This is an INCREDIBLE discount for printing. There are other available discounts online as well.