A list of AAUW-WHC activities can be found in our newsletter as well as in the directory.
Leaders for all the groups are listed in the Directory, but if you have questions and/or would like help to make a connection, please contact Activities Coordinator, Sharon Jorgeson,
281-703-5939, sjorgeson@gmail.com
Please see online newsletter for specifics for the interest groups.
Note from Dawn Katz
As corresponding secretary, one of the delights I have is sending all of you digital cards for your birthdays or "real" cards to those experiencing a grief event, an illness or injury. Occasionally I get a reply, which helps me get to know many of you better. A couple of weeks ago I got a letter from Dawn Katz, who now lives in Wisconsin and whom many of you know. Our board asked me to send you the letter so you could learn how Dawn is. If you don't know her, you might enjoy hearing from a very delightful person. Here is her letter: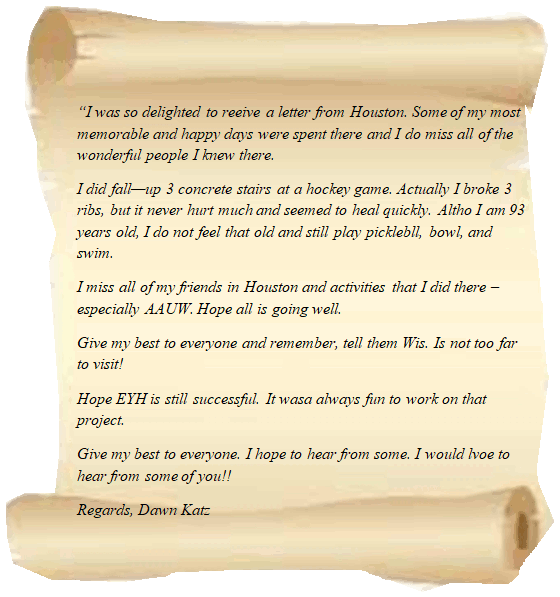 And here's Dawn's address:
Dawn Katz
Village Point Commons #2113
Grafton, Wis   53024
---
"Don't Fall for a Scam" Recording
Members may use the following information to view the Better Business Bureau program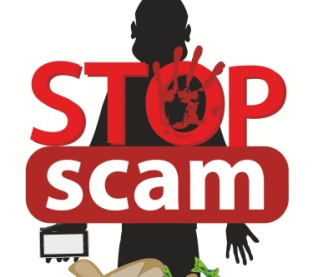 presented by Jennifer Salazar.  Jennifer gave great information about the current top 10 scams.  Included in this program are important phone numbers and ways to protect you from potential problems.  Permission has been given for you to download the program to your computer.  Jennifer's calendar is booked far into 2022.  Please feel free to share the download with friends and other groups.  If you have trouble downloading, call or email Carolyn Morris morriscs@aol.com  713-560-1889.  The program is only in the Zoom Cloud for a limited time.
Topic: Don't Fall for a Scam -AAUW Feb. Meeting
Date: Feb 20, 2021 09:28 AM Central Time (US and Canada)
Meeting Recording:
https://us02web.zoom.us/rec/share/Qa7L05UWXmT_1WFqy1vaUPnrrrNCEavvcl5zd2sHVQ0cCW71sShkRbMXop3BlFoU.i5jfw99WW3Bd821x
Access Passcode: q@%G4Sds
---
ZOOM HINTS
Everyone wants to look their best on ZOOM. Chad Blackburn, son of Marsha Blackburn, U.S. Senator from Tennessee, and friend of David Carlson, is sharing ZOOM tips.  Thank you, Margaret, for passing this information along.
Get Ready to B.L.E.S.S. Zoom meetings with your virtual presence!
Background – Use a virtual background if your background (what the other participants "see" behind you) is cluttered or unprofessional. Note that bright windows in your background can cause lighting issues.
Lights – Ensure you have the best lighting. An easy way to improve lighting is to take the shade off a lamp or two and place them behind your computer. You will look better, and it will fill out shadows.
Elevate – Set your laptop on a box to elevate your camera to just above eye level. This keeps us from looking up your nose and eliminates double chins.
Sound – Improve sound quality by connecting a set of headphones that have an integrated microphone to your computer. Headphones that come with smartphones work well. This eliminates echoes and improves sound quality when you speak.
Shirt – Dress professionally out of respect for those who are participating in the meeting.
BONUS: Clean your camera lens especially if you've had a sticky note over it!
---
10 Steps to Make a Difference with AAUW
This year AAUW is focusing on economic security and pay equity. AAUW is working toward a goal of ensuring livelihood for women by achieving pay equity by the year 2030 through several key objectives:
Champion pay equity federally and in all U.S. states and territories
Lead the nation in providing salary negotiation programs for employees and employers
Train 10 million women in salary negotiations by 2022.
Click here to watch the six minute video on 10 Steps to Make a Difference with AAUW.
---
Greetings to All AAUW West Harris County (TX) Branch Members
The Board has approved the use of permanent name tags to be purchased by the members. Members opting not to purchase name tags will be provided with sticky tags at events.
The instructions below can be used to order your name tag – example shown above.
Go to: AAUW.source4.com
Select: Wear AAUW (the first item)

Select: Photo of the name tag

Select: Pin or magnet – ($8.00 for pin closing and $10.00 for magnetic closing)

Select: Quantity

Select: "Customize" and complete the information requested: 
your name,
"West Harris County (TX) Branch"
and name of your university (optional).
Make sure the information for the name badge is correct and proceed to checkout.
I will be glad to assist anyone who has trouble ordering their name tag online.
Sheila Jaynes, Membership Vice-President
---
No Longer in Boxes Under the Bed: AAUW WHC History
Out From Under the Bed and Into the WHC Branch Archives
Now is the time to assemble all records, including digital, paper, and memorabilia, from our activities this past year. By the end of June, please send these records to Martha Ewell, Historian. Each August, the Historian meets with the archivist at the U of H Library, located on the main campus, to deliver these records for entry into the Carey Shuart Women's Archive & Research Collection which houses all of the WHC Branch past and current history.
If you have any questions, please contact Martha by email m.ewell@sbcglobal.net or phone 713.782.2084.
---
BYLAWS CHANGE ALLOWS FOR ELECTRONIC VOTING
VOTED ON AT JUNE 11 MEETING
The Branch Board is proposing that the West Harris County Branch Bylaws be amended to allow for electronic voting. This change will be in effect beginning  in 2016.
The past and current wording of Article V, Section 3b and Article XIV, Section 4c of our Branch Bylaws is shown below.
Margaret Carlson, Parliamentarian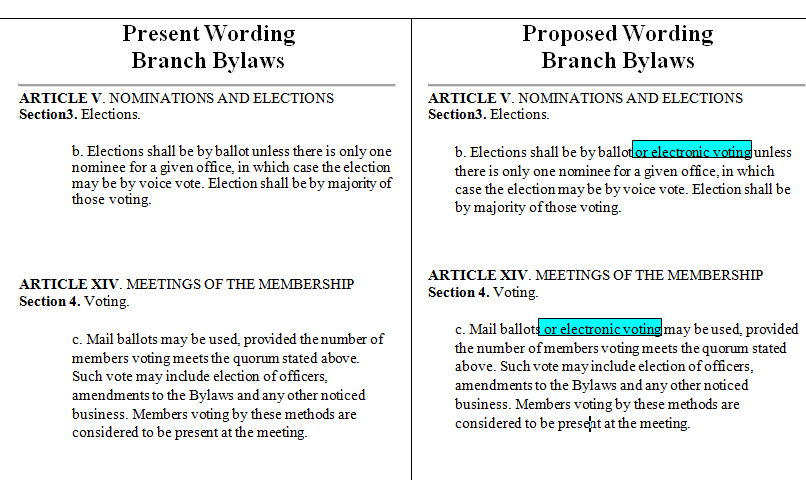 Branch Merger Discussion Discontinued
A discussion of a merger between the West Harris County Branch and the Houston Branch was discussed at the March 22 branch meeting.
A branch merger would dissolve both branches to form a completely new branch. Considering that West Harris County Branch turns 40 years old this year and Houston Branch observes the 80th anniversary of its charter in 2017, a merger with loss of branch history and identity would not be to the liking of either branch. Therefore the suggestion to consider a branch merger will not be pursued further.
Office Depot and Office Max
AAUW has partnered with Office Depot and Office Max to bring you a free national discount program. Members of AAUW can now save up to 80 percent off preferred products, online and in stores! You will also receive free next-day delivery on orders over $50! Print your in-store savings card by accessing the following URL. http://www.officediscounts.org/aauw.html
Free lamination of the card is included if printed online. This is an INCREDIBLE discount for printing. There are other available discounts online as well.